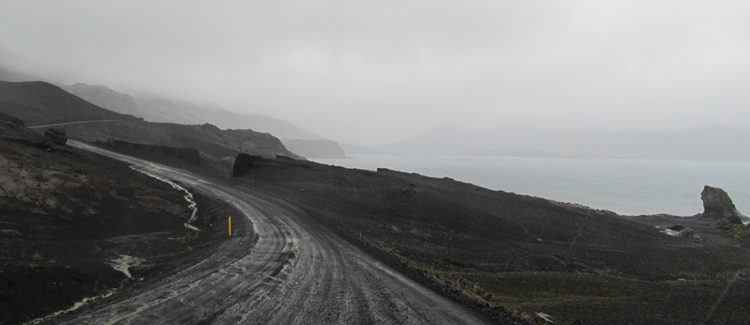 So this was pretty much the motto for Day 6: hello rain again! Those brave horsemen tried to defy the weather conditions in their fancy orange suits but either way I bet they got just as wet as we got later this day …
From Selfoss we drove to the Reykjanes peninsula and made a stop at Strandarkirkja. It was pouring so we waited a few minutes to get into that little chapel. Meanwhile busses of tourists arrived one after the other. The people had 5 minutes to take photos and then they disappeared again. This was a bit of a sad spectacle and we used a bus-free moment to glance at the cute chapel's interiour.
The thick clouds didn't raise our hope for nicer weather today so we decided to drive up to Reykjavik to move into the apartment we've rented for our last two days of the trip.
But when we drove up north we couldn't turn our backs on the great nature which happened to be along the way. So we got off the car at the geothermal fields of  Krýsuvík which surprised me with their mind-blowing colours despite of the fog and the rain. But I'll get back to these because we went there twice within two days.
By now everything in our car was wet!
We watched the Kleifarvatn lake from inside the car (as far as we could see!) and made our way to Iceland's capital, Reykjavik. We stayed at one of Alfred's Apartments near the city centre. The apartment itself was very big and not too expensive for Reykjavik's circumstances (100 Euro per night). In the evening we took a short and rainy walk around downtown and later enjoyed South African TV.
There will be more about Reykjavik & Reykjanes next week!
First I have to complete a half marathon on Sunday. Please keep your fingers crossed!
∼
Day 1, Part 1 – How to shoot a geysir?
Day 1, Part 2 – Hot springs on the moon
Day 2 – Colour attack!
Day 3 – Waterfalls in the North-East
Day 4 – The Day I preferred a cracker to a cookie
Day 5 – Wet again but hej, two rainbows!
Day 6 – You're here!
Day 7 – Welcome to the capital: Reykjavik
Day 8 – The last Day in Iceland