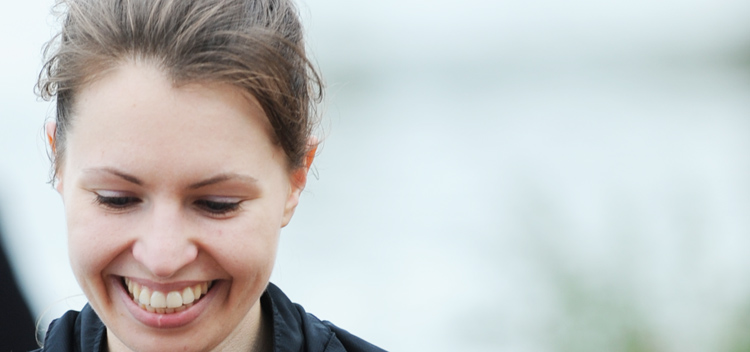 So Felix Baumgartner hit several world records with his space dive on Sunday. But here's something more exciting (at least for me!): I successfully finished my first half marathon in Offenbach on Sunday! And I didn't collapse, I'm still alive!
Here's a little km report:
(the race had a turning point at 10.5 km)
km 0: It's so crowded here– Did it already start? Everyone's starting to run, maybe I should, too!
km 1: Oh damn, I'm really doing this.
km 2: Let the people pass, I stood too far to the front anyway.
km 3: There's a campground on the right, would they notice if I spent the next 1,5 hours here and then get back into the race?
km 4: What am I listening to? This music mix is annoying, maybe I should skip it.. But no, I have to bear it for an hour now, otherwise I'll spend my run with toggling through music.
km 5: Is this fun? Not sure yet.
km 6: Beginning to calculate – I have to run this distance just two more times and then just a little more…
km 7: First drink station: Jay! Not thirsty yet, but I take some water.
km 8: wait, what? the first runners are coming towards me – how fast are they? From this point on I'm putting a smile on my face to support the oncoming runners, but most of them seem rather irritated.
km 9: feeling bad because there are more and more runners passing in the other direction. How many participants are in this race again? And do I feel some side stitches coming up?
km 10.5: okay, they would've noticed my little campground side trip  as they write down the numbers at the turning point but hey, they are quite nice, thanks for the support!
Half way through!
km 11: Where's the next drink station??!
km 12: What shall I think about the next 9.0975 km? It's boring, I should quit. And I'm thirsty! And I should stop smiling because I get hiccups from it.
km 13: Need water! #drink station ahead: Ahhh, that's good! Oh and trying some Iso, why not!
km 14: Iso is amazing, I should've taken more for the way! Iso, Iso, Iso.
km 15: Starting now: Toggling mode. Where are the Spice Girls?! Damning Ipod Shuffle.
km 16: Head's asking: okay, so why are you doing this again? Can't explain it, starting to think and doing some more calculations – just 5 more km to go! How difficult can this be? (should be the longest 5k of my running experience!)
km 17: Okay, time for the secret weapon: The energy gel! Irgh, too sweet! I would prefer water right now!
km 18: The gel had less overwhelming effects that I expected it to have. stupid gel. How to eat/drink/whatever it anyway. Oh there's the last drink station: Come to me, my beloved Iso!
km 19: 2 more. These last kilometres are a looong haul.
km 20: Why did I have to wait for you so long, 20? Why Why Why? I've just about had it enough!
km 21: I see the finish line – Is the watch saying 2:27? Are they kidding me? I'm gonna make it under 2:30?!
km 21.0975: 2:28.
A last smile for the photographers, getting my new love Iso and flee from the rain. Less glamourous than I thought my finish line would be. But hey, I made it. Okay so how do I get back to Mainz now?
It's been a tough race and at km 17 I nearly promised myself to never ever do something like this again. But now I already plan my next run. There's a record to beat!
Thanks for your support!