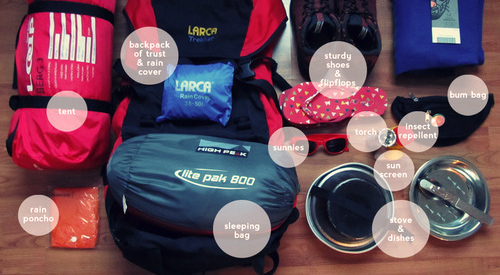 Tomorrow morning at 2:30 am the fun begins. Getting up, getting ready, "Did I pack everything?!", hurrying not to miss the bus at 4 which brings me to Melt at Ferropolis. 
The picture above shows you an example of my festival essentials I gathered together from the attic.
Let's see what's missing:
spirit for the stove
sleeping pad
toilet paper
trash bags (for garbage and to keep your stuff dry)
folding chair (unfortunately I don't have one, but I take an aluminium mat with me)
toiletries (includes everything you need from tooth brush to contact lenses container)
clothes (for sunny/rainy weather and especially for the cold nights)
towels
rubber boots (lost mine at the last festival, so this time I packed my hiking boots)
camera
first aid kit
lighter
food + drinks
cash
magazines
And – of course – I will pack my running gear to check out new routes for you :)
See you next week!
[youtube http://www.youtube.com/watch?v=L9M7aM-WsYA]