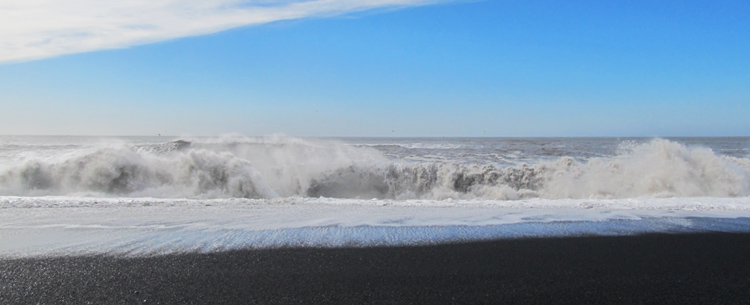 Welcome to Day 5 of my Iceland travel diary! Awakened by the sun at Bölti, Skaftafell we set out for more beautiful waterfalls and glaciers and headed south-west.
First stop on our route was the coast of Dyrhólaey which was simply stunning. This place really has something magical: Black lava columns coming out of the thunderous sea which tears against the black sand of the coastline. And on the opposite there are those bizarre basaltic columns rising up towards the sky.
Driving further into the south we've noticed that the sights became more and more crowded. It's surprising that I managed to take a picture of Skógafoss without people standing in front of it. Instead two rainbows were showing up!
As you can see the weather got better during the day and so this waterfall appeared at its best: Seljalandsfoss. This is a special one and we named it 360° waterfall (no one remembers Seljalandsfoss, anyway!) because you can walk around it!
This is the view from the inside (and shortly before I got soaked to the skin, AGAIN!).
Following the road right next to the waterfall we tried to get to Þórsmörk. The gravel road crosses several streams which we heroically conquered. I think we made half of the way but then a giant river made it impossible to get ahead in our tiny Jimney. So we got off the car and looked for a glacier lake which should be around. Later we found out that since the Eyafallakökull  (which I can pronounce without stammering now!) eruption this lake doesn't exist anymore. Well, but we took some great pictures! And helped an elderly Icelandic couple (again, heroically!) to jump start their car.
Selfoss should be our stay for the night. Unfortunately there was no room in our favoured accommodation so we went into a basic B&B. Nothing too fancy and we had a room below ground right next to the reception (and the main street) but it offered Wifi !
The city itself wasn't too exciting either but they had nice traffic lights!
I hope you've enjoyed the fifth part of my report. Still three days of the journey left!
You'll find more pictures of Day 5 in the gallery:
∼
Day 1, Part 1 – How to shoot a geysir?
Day 1, Part 2 – Hot springs on the moon
Day 2 – Colour attack!
Day 3 – Waterfalls in the North-East
Day 4 – The Day I preferred a cracker to a cookie
Day 5 – You're here!
Day 6 – Hello rain again
Day 7 – Welcome to the capital: Reykjavik
Day 8 – The last Day in Iceland